This is a great time of year for football fans. The NFL playoffs are in full swing and the big game with all the parties, the Super Bowl, is less than a month away in Santa Clara, California. But what can you do to keep those health goals that you have vowed to keep with the typical Super Bowl party that is full of anything but healthy food? The simplest thing could be to not worry about it – enjoy Super Bowl 50 on February 7th, 2016 but don't completely fall off the healthy eating wagon. I try and temper the unhealthiness by keeping the food at the Super Bowl party, somewhat in line with the healthy eating that we all try to start off every new year. This way I won't be overcome with guilt the day after or spend the next week trying to overdo it in the gym.
I was thinking about the 2016 Super Bowl over the weekend and came up with some healthy ideas that anyone could incorporate. I wasn't able to test all these recipes out this weekend but did enjoy the fruits of my labour while watching the two wild-card NFL playoff games on Sunday.
Must have Super Bowl tortilla chips and dip
To kickoff this Super Bowl party we need to have some tasty chips and dip. How do we make them healthy? Let's tackle the tortilla chips first. Look for a good quality baked tortilla chips – I prefer organic baked tortilla chips. Yellow or blue corn is up to you; mix them up if you want your platter to look cool. If you can't find the baked variety don't fret too much…just read the labels of the various brands in your supermarket and splurge a little if needed to get the best quality organic tortilla chips.
The layered dip to go along with the chips is super easy to make. You will need salsa, guacamole, plain greek yogurt and a light cheddar cheese. Start by making the guacamole. You already know that I love the superfood avocado so having guacamole in the layered dip is a no brainer. You will need some ripe avocados, finely minced red onion, chopped cilantro, diced tomato, hot sauce, salt and lime juice. Cut the avocados in half and twist them open; remove the pit and use a spoon to scoop out the flesh in a bowl. Mash up flesh with the back of fork, then add the rest of the ingredients and mix it well. Taste and season as needed.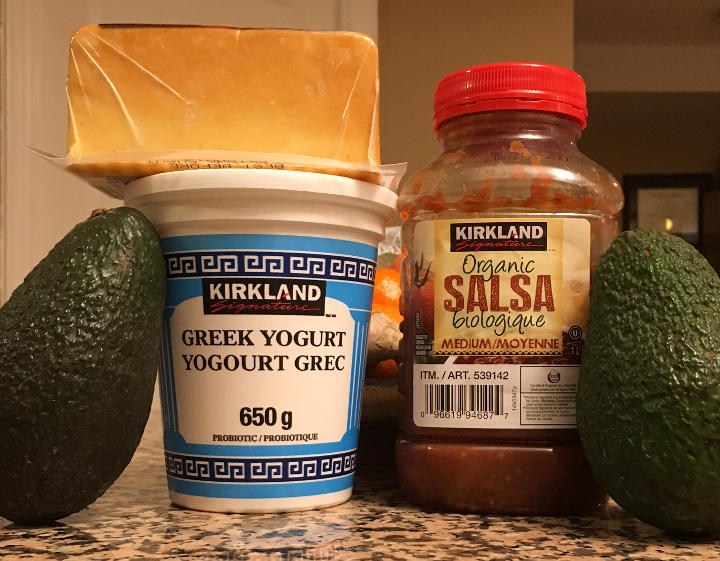 We start assembling the layered dip by putting the guacamole in a dish of your choice. Smooth it over and then add a layer of your salsa on top. Grate some light cheddar cheese and then put a thin layer of greek yogurt and finally top it with another layer of grated cheese. You can repeat by adding another layer of guacamole followed by salsa, cheese, greek yogurt, etc. if you wish. I also add like to add some sliced jalapeños at the very top as a zesty garnish. Et voila, your multi-layer dip is ready for your tortilla chips.
Continue reading Super Bowl 2016: Healthy eating at your Super Bowl party →