Looking for the best gym bag? Take a number! Most of us have lived with crappy gym bags. Those that fell apart, were uncomfortable to carry, poorly designed and not worth the money we paid. And then there are those freebie gym bags (from supplement companies or gyms) that tend to be even worse. This workout bag dilemma may not seem to be the most serious problem facing you but the sound investment of a good gym bag will pay itself off many times over. You need a gym bag that will protect your belongings, can keep up with the rigors of public transit, car trunks and gym lockers, is easy to carry, ergonomic and looks good. This is why you want a good gym bag.
By no means have I tried out all the gym bags that are out there on the market. But I have gone through my fair share and have a bit of a "collection of bags" going on.  So  I will cut to the chase and give you what in my humble opinion are the two best gym bags I have come across along with a couple more good bags that really impressed me, but come with caveats.
Timbuk2 Navigator Duffel Bag
Timbuk2 is well regarded for taking the messenger bag from being the domain of bike couriers into the mainstream and makes some very good quality products. Their Navigator is not your typical duffel bag – in fact, it is a duffel/backpack hybrid and that is why I love it. It has two handles that can be used to carry it like a duffle bag if you are taking it out of the car or putting it into your gym locker. And it has two (hidden) straps which can be used to make it into a backpack if you are going to be walking or taking public transit and don't want to carry it for a long time. This is just one of the great features that puts this bag at the top of my list.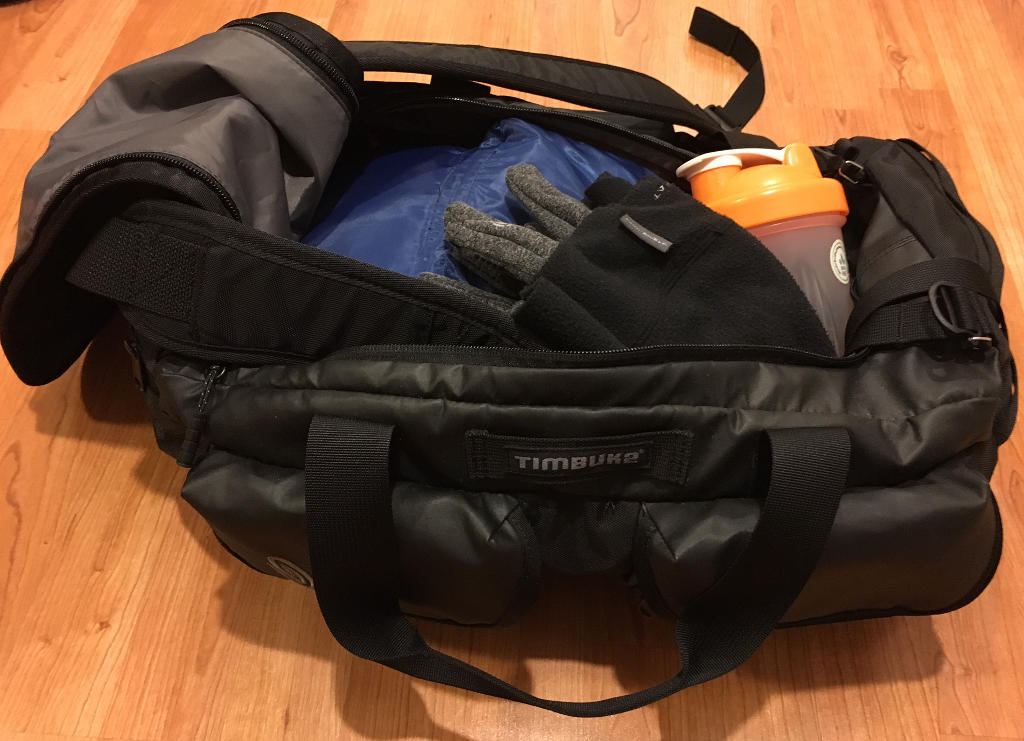 The small size Navigator has a capacity of 40 liters and should be perfect for most gym goers.  This size should also be good as carry on luggage for most airlines (I have used it without problems a couple of times). The Navigator duffel bag is made of a waterproof material (what Timbuk2 calls bombproof nylon) and has two front pockets, one slim bottom pocket and a large main compartment. The front pockets are perfect for storing keys, smart phone, protein bars and the back pocket can accommodate a book or magazine and it is also used to pack up the bag into itself (check out the video below). The main compartment is open and spacious and allows you to organize it as you please (you can see my setup above). The gym bag is well constructed, well thought out and looks good. It can go from a gym bag to an overnight bag to a carry on bag (small only) on a flight – and I have used it for all three. Sold.
5.11 Tactical Rush 24 Backpack
If you prefer using a true backpack as your gym bag then look no further than the 5.11 Tactical Rush 24 backpack. But you will have to start off by getting past the fact that this bag is marketed to and very popular with the military/private security contractor/prepper crowd and not your typical gym rat. Don't let this prevent you from considering the Rush 24 as it makes an excellent gym bag. Instead, take from it the fact that this is a very well designed and constructed backpack that has caught the fancy of people who appreciate well built gear. You can also avoid the military style colours and cammo schemes and go with one of the black tones that won't stick out.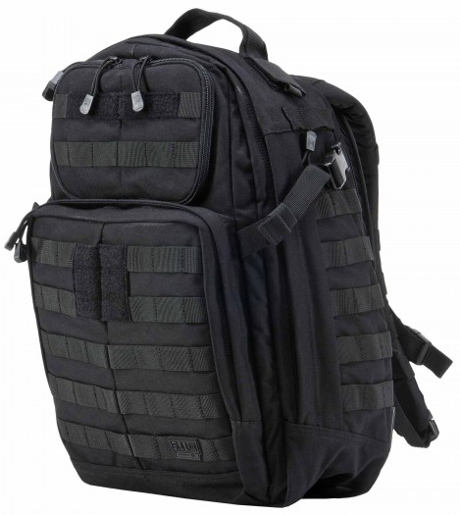 First off, this is a solid bag constructed out of 1050D nylon (which was originally made for bulletproof vests). The Rush 24 has a waterproof coating and mine has survived several years of use in the sun,  rain, sleet and snow that we get up here in the Great White North. Did I already mention that this thing is built tough? Next up, storage and pockets is where this backpack absolutely shines. The 5.11 Rush 24 has 37 liters of capacity including a very roomy main compartment that can be fully accessed, thanks to zippers that go from end to end. This compartment also has a few mesh pockets but I never used them – my main workout gear would go in this part. On the side of the bag are two pockets that are perfect for water bottles, an umbrella or sunglass case. The front has two sets of storage pockets. Near the top are two small pockets and below is a bigger one, called the "admin pouch". This has straps within the secure belongings (originally it was probably designed to hold weapon magazines) and there is an internal zipper pocket as well.
Continue reading Your search for the best gym bag ends today →