I have long been on the quest for the "perfect protein powder". There is a lot of research on this subject and many of the gurus and bros have their views and opinions on what is best. Is it whey protein isolate, whey concentrate, whey hydrolysate, casein hydrolysate, micellar casein, milk protein isolate/concentrate, calcium caseinate, whole egg or egg white protein, soy, pea or a combination of these and other proteins?
I tend to believe that a balanced protein powder with a high amount of whey is probably best. There are studies showing that an approximately 80% whey and 20% casein protein blend is best for athletes to consume for recovery after working out or participating in sports.
CNP Professional Pro Peptide is one of the better protein blends available on the market today. Even as whey protein (a by-product of the cheese making industry) supplements become very popular (for good reasons) there is a solid scientific base for the use of casein and egg proteins in building muscle and enhancing recovery. ProPeptide protein can be used at any time of the day, including before going to bed as the slow digesting milk proteins will continue to nourish the body for hours as it sleeps.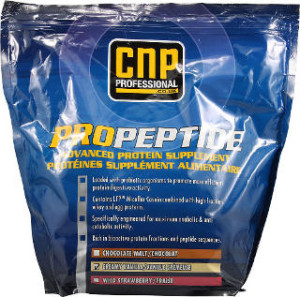 ProPeptide protein contains probiotic organisms which help with digestion. The casein protein is of the micellar casein form, derived from milk protein concentrate. Whey protein concentrate, isolate and hydrolysate are also part of the blend, along with egg white protein. I asked the company for a breakdown a few years ago and though I am not sure if the protein formulation has changed, but this is what CNP used back then:
Ingredients in descending order by weight
Milk Protein Concentrate > 32.09%
Whey Protein Concentrate > 22.33%
Peptide Bonded Glutamine > 20.67%
Egg Albumen > 15.50%
Natural & Artificial Flavors > 4.30%
Medium Chain Triglycerides > 1.00%
Whey Protein Isolate > 0.80%
Hydrolyzed Whey protein > 0.80%
(Even though I like this protein powder, this breakdown is a good eyeopener on how the sports supplement industry operates. Not much whey protein isolate and hydro whey in there but it sure looks good to have them on the label.)
Finally, ProPeptide also provides a very healthy 10 gram serving of glutamine peptides to help recovery and immune system health.
CNP ProPeptide protein powder has also features a guarantee from the Banned Substances Control Group (BSCG) stating that sample of the batch was analyzed by an IOC/WADA accredited laboratory and no banned substances were found. This is important because the lax regulation of the supplement industry leaves it open to some less than stellar companies. This sort of commitment to quality control bodes well for this protein supplement. Any athlete that is tested for banned substances should be making these inquiries and confirming that companies whose supplements they consume are current on BSCG certification or that from other similar governing bodies associated with their sports league.
And now back to the ProPeptide protein supplement as we wrap this review up. I have only tried the Wild Strawberry flavour and it was by far one of the better strawberry proteins I have tasted (strawberry seems to be a hard protein powder flavour to master without loading it up with fillers and sugar). I have also read some very positive comments about their Chocolate Malt flavoured protein powder so these two might be good options for those wanting to try out this protein blend supplement.
Nutrition facts for ProPeptide
Nutrition Facts
Serving Size 65g
Servings Per Container
---
Amount Per Serving
Calories 230
Calories from Fat 27
% Daily Value*
---
*Percent Daily Values are based on a 2,000 calorie diet. Your daily values may be higher or lower depending on your calorie needs.